Oil-free air compressor
Product name : Oil-free air compressor
Product No. : 20173303343
Details:
Oil-free air compressor


1. Technical specification: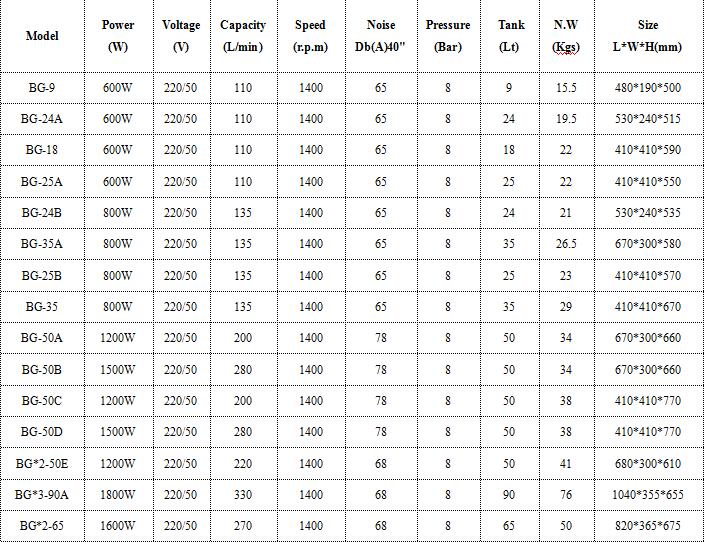 2. Descriptions and Application:
Produced by our company BG series oil-free air compressor adopts high quality, large flow swaying oil-free piston compressor as a source of power, can provide a stable source of gas without oil, avoid the oil enters the body, and can avoid terminal machine of tubing failure caused by oil resistance.
The unit selects the high quality components, this product is widely used in medical, food processing, family, environmental protection, biological, pharmaceutical and other fields, wide range of USES.
Advanced production technology, large flow, low noise, air clean, dry, smooth operation, can work continuously for a long time, long life, full automatic control, in the process of operation, when the pressure in the tank to the minimum or maximum set, the compressor will automatically starting or stopping.
3. Why customers choose us?
·Experienced! Mature experience air compressor sourcing, air compressor parts forging and machining service.
·Perfection! Our philosophy is create a first-class product, based on cooperative,innovative,persistent,hard work and entrepreneurial spirit.
·Dedication! Our strength is to bring you competitive advantages in your air compressor and parts market.
·Responsibility! Make our customers more competitive as our sustainable development strategy.
·Pursuit! To create sustainable value for clients, offering more market-led products & customer-oriented services
·mature experience in air compressor pumps and machining Lower Cost.
·Shorter Lead Time.
·Extensive Product Range.
·Great Reputation.
·Responsible and Responsive Customer Care.
·ERP Integration.
·Our After-sales service brings you a peace of mind.
·Customized Production is available.
·Supply for OEM and After Markets.
·Quality Assurance from Raw Material.